Long before there was Scouting on the internet, there was Scouting on amateur radio.
Amateur Radio is one of the options for study in the Scouts BSA Radio Merit Badge. 
To operate your own amateur radio station you must be tested and licensed by a national government authority. In the U.S. that authority is the Federal Communications Commission (FCC). Many amateur radio clubs offer classes to learn how to be an amateur radio operator (or "ham").
 GGAC Scout Net: Thursday 7:30pm on WB6WTM/R, Freq: 440.300 +, Access Tone: 127.3 Hz, El Cerrito, California

I plan to start a regular net on Thursday evenings at 7:30. Will have a dry run tonight 8/6/2020. Hope to hear you on. 73, Dave Shaw, WB6WTM
USA Radio Scouting net is active the second Thursday of every month beginning at 9 PM Central (7 PM Pacific) at Echolink Conference Node *JOTA-365* (480809).
Jamboree on the Air (JOTA) - 3rd weekend (Fri-Sun) in October
International Space Station
Scouting Amateur Radio Repeater Stations
WB6WTM/R - El Cerrito (Hills), California, USA
Dear GGAC Scouting Hams,
I recently installed a new repeater (WB6WTM/R) in the El Cerrito hills.
The primary purpose being to support the Scouting community.
Thanks to Kevin Custer W3KKC and Pete Elke WI6H who donated components to make this possible.
Dave Shaw, WB6WTM
Sent: Thursday, August 6, 2020 12:39:29 PM
WB6WTM/R Repeater
Freq: 440.300 +
Access Tone: 127.3 Hz
Location: Hills in El Cerritos, California.
Repeater coverage won't work for all (see attached screenshot of coverage map) . Green highlighted area should be good for Base & Mobile coverage.
Hand held coverage seems good in nearby communities (El Cerrito, Albany, Richmond, Berkeley, Oakland).
Dave Shaw, WB6WTM
Notes (per WB6NLL)
This frequency band is for FM radios.
440.300 MHz is the output frequency. The plus sign (+) indicates the input frequency is 5 MHz above the output frequency.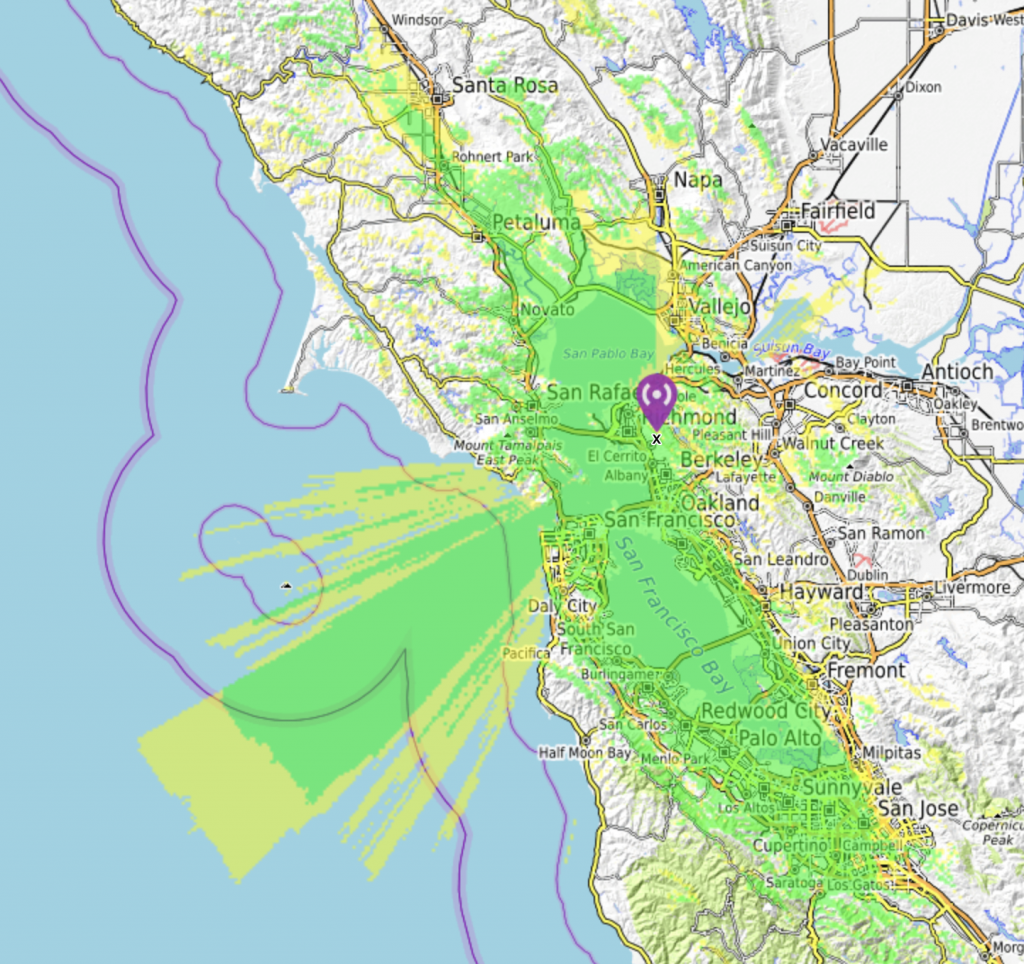 Community Organization Award Recipients
ARRL AMATEUR RADIO SERVICE TO SCOUTING RECIPIENTS, Name and Call Sign, (Listed by ARRL Division and Section), BSA Council and Date of Issuance.
Pacific Division, East Bay Section
William C. Wells, WB6NLL,  Mt. Diablo Silverado, October 21, 2015
Roy Adam, N6FUN, Mt. Diablo Silverado, May 19, 2016
Dave Shaw, WB6WTM, Mt. Diablo Silverado, May 9, 2016
Page updated 2020-09-30 by Bill Wells, WB6NLL